Rank:

Cyber-Lip

Member since:

Dec 17, 2009

Last online:

05/19/13 7:51 am PT
Welcome to the first part of my Top 50 Games of 2011. 2011 was commonly hailed as the year of the sequel, where we saw numerous titles, both the highs and the lows. You'll see a majority of sequels here, but where do the new IP's fit amongst them? To find out, let's begin the Top 50 with the games in the spots #50 to #26. This was a pretty hard list to make, and some games were unfortunate to miss out. But I hope you enjoy reading the list and thinking of the memories you had with the game.
#50
Homefront
Homefront was disappointing for some people due to the game having a short campaign and stale multiplayer. The multiplayer's maps were rather uninspired, but the campaign itself was rather interesting, given the storyline's relation to a current world crisis (which is the main reason for my original interest). The game has decent game mechanics, but unfortunately it doesn't have that spark of longevity that other shooters have.
#49
LittleBigPlanet 2
Platformers aren't usually my thing. I'm not really one to go past Mario or Sonic in the genre, the latter who has let me down recently. However, the one thing that made me like this game was the Sackbots. Sackboy's cute enough, but having three miniature ones right by your side made it much better in my opinion. I'm pretty terrible with customising stuff, but the UI on this game also makes it really easy to make user-generated content.
#48
Brink

Just like Homefront, this game was considered by some to be too short and too boring. However, due to this game being highly advertised, and a lot of bugs relating to online connection, many people saw it as a letdown. I didn't mind the premise of the game, but it wasn't one I could play more than twice, which I have.
#47
Madden NFL 12
The tough thing about rating sports games is that they don't really change much from year to year, unless they move to a new console. So when I rate games like this, it's more the memories that occur rather than the gameplay features they contain. My cousin bought this when it came out and I played it at his house for a bit. We play more to crash into each other as opposed to legitimately. However, this game has top notch graphics and it's EA Sports' best title in years.
#46
Catherine
Overall, this is a pretty weird game. Although I've heard great things about it, it's not one that I'd have looked up if it weren't for recommendations. The puzzle elements seem really tricky and therefore it's not really my kind of game.
#45
Ultimate Marvel vs. Capcom 3
Since I suck at fighting games, I was really glad that this game had a beginner mode, where you could exploit the combos without needing to press 100 buttons. I'm not a fan of many of the Capcom characters (since I don't like any Capcom games except Dead Rising 2 and Resident Evil 4), but the lineup from both parties is spectacular and plentiful.
#44
Shift 2: Unleashed
It looks like the dark days of Need for Speed are over. After a few years of terrible titles, Shift 2 returns to the series roots. On the track, back where it belongs. Sure, it's no Forza 4, but if you're looking at getting into a racer without needing much knowledge of cars or skill at racing games, this is a perfect game for you.
#43
Bulletstorm
I've always told people that this game is basically an extensive tech demo for Gears of War 3. This game didn't have multiplayer, which was a massive letdown for most people, especially considering we were all anticipating it. The campaign was a solid experience that would have been a lot better with friends, unfortunately all we were given was online co-op.
#42
Sonic Generations
Sonic Generations tracks back the 20 years of Sega's mascot and transforms them all into modernised levels. If you liked Sonic the Hedgehog's previous titles, this makes for a great pickup, but unfortunately, something about it just doesn't feel right. It doesn't have that special element that made the previous games so special. Basically, this game feels *too much* like a remake.
#41
Call of Duty: Modern Warfare 3
At some point, people have become sick of Call of Duty. Contrary to my opinions of the first two Modern Warfare titles, the third in the series is where I've dropped off. The multiplayer in this game is stale, and the maps are terribly uninspired. Spec Ops returns for another round, which is a bonus, but the addition of Survival mode felt like it was tacked on. Fortunately, the campaign retains the quality that made the series so good in the first place.
#40
F.E.A.R. 3
The first title was such a letdown for me, I couldn't even bear to finish the first level. If I recall correctly, F.E.A.R. 2 won the 'Most Disappointing Sequel' in Gamespot's 2009 Game of the Year awards, although I didn't think it was all that bad. F.E.A.R. 3 (damn, that's annoying to type) is pretty much more of the same. It doesn't really improve on its predecessor in any way, but overall it's probably the most quality the series has had in a title.
#39
Bastion
Yeah, here it is, Chickan. Knowing that I probably wouldn't play it myself between last month and by the time I compiled this list last week, I decided to do the dirty and watch a few episodes of a Let's Play on Youtube. And all I can really say is that it's probably the greatest game available on Xbox Live Arcade, period. Maybe second to Limbo. The story's intriguing, the characters a little off in my opinion. The main downside would be level design (that camera perspective would really irritate me). If it's ever less than 800MSP, I may end up getting it.
#38
Assassin's Creed: Revelations
I never "got into" this series like everyone else did, but Assassin's Creed: Brotherhood was a real eye-opener for me. Unfortunately, Revelations just stabbed a pencil into it. Another annual release from this series and it left a sour taste in my mouth. I'm interested in seeing what's going to happen now that Ezio will no longer be involved in the series, but I think this game has just killed my interest in the series now.
#37
Driver: San Francisco
I gave this a test drive at JB Hi-Fi and I was really taken aback at how much road you could cover in this game. I looked it up, it's something like 340 kilometres of road or something similar that you can drive on. It's amazing that open worlds have become much more detailed while also becoming larger. As for the game, the cars are still hard to handle and have a generic feel to them, but considering I haven't played a Driver game since Parallel Lines (which was terrible), it's a refreshing change. Or was that the last one?
#36
Warhammer 40,000: Space Marine
Ok, so I hired this one when it came out, back when I was in the internet-less days because the Space Marine title interested me. Big mistake, it turned out, considering you needed knowledge of the whole Warhammer 40,000 universe to get a basic understanding of exactly what in the hell is going on. However, gameplay aspects are solid enough for a third-person action game, and there's a hoard of equipment for you to use. Not a bad game, but the plot went so far over my head, the same reason I hated Assassin's Creed II.
#35
Stacking
Yeah, so here comes the contradiction in my countdown. Earlier I said that Bastion is one of the best XBLA games ever, but then this one came along. The way the dolls hop around makes me laugh, but the puzzle elements are both simplistic and engaging. Both clever and humorous, Stacking manages to get the best of you and make you laugh at the same time, something so few puzzle games make me do.
#34
Motorstorm: Apocalypse
Finally, a racing game on the PS3 that's impressed me other than Gran Turismo 5. This is the game that the first games should have been. One of the reasons I love this is that the online system is easy to set up and race. It's hard to get a real plot happening in a racing game, and I didn't like it here because it seemed way too repetitive, but at least the race action is addictive enough to divert your attention elsewhere.
#33
SOCOM 4: U.S. Navy SEALs (also called SOCOM: Special Forces)
The Americans always get the better cover art, don't they? As a personal fan of stealth and tactical shooters, this one was a great improvement over SOCOM 3, although mainly because there was a long wait between games and they span across two consoles. However, its campaign was more compelling than SOCOM 3 and overall SOCOM would probably be the most underrated shooter franchise of the last ten years.
#32
Dragon Age II
Considered a letdown by some and a terrible game by others, I was a little more than disappointed when hearing all of the negative comments, but then I actually played the game. It's not terrible, it's just the story was nowhere near as engaging. Combat was improved and this time around, I felt more like a person and not a character in a video game. I'm praying to God that it happens in Mass Effect 3. I want to be Commander Shepard, I don't want Commander Shepard to be Commander Shepard.
#31
Halo: Combat Evolved Anniversary
Was it really 10 years ago when we saved the galaxy from the threat of the Covenant and the Flood for the first time? Yes, and I was six when it happened (although I never played it until I was seven). This year, we were blessed with a HD remake of the game, whose campaign, revered for its length and creativity, still holds up really well today. Online is a bit worse than you'd want, as there were only six maps from the original game, but at least it was a glimpse at what might have been.
#30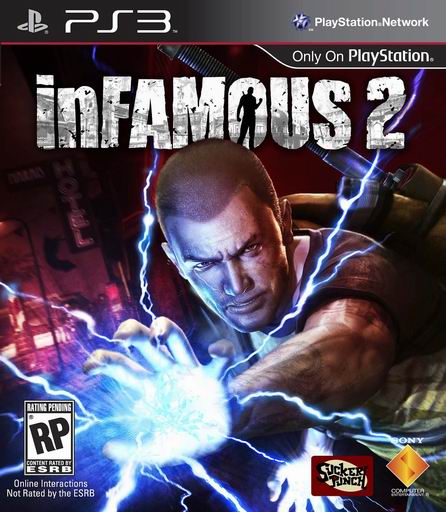 Infamous 2
Alright, short and sweet. Infamous 2 focuses more on its open-world type gameplay and mechanics than the first game but still manages to get both sides of the coin in one neat little package. Cole is still one of the most awesome characters of this gen. This game is what Prototype (shudders) should have been. Rumours of a threequel are high.
#29
The 3rd Birthday
At first I thought this was a new IP, but when I first played this, I realised it was a sequel to Parasite Eve. Pretty addictive stuff. Somehow Square make everything so compelling, at least in my opinion. Didn't soak as many hours into this as I'd have liked (around 5 to 6), but enough to give a justified view for this game on my list.
#28
Total War: Shogun 2
So I don't know much about this game and it would have flew over my head if it weren't for its mention in the Best of 2011 awards, because frankly, strategy games aren't my thing. But "DAMN, BOY!" is all I can say at the graphics on this game. Blew me away first time I saw them. Probably not one I'll be picking up in the near future, but a nice little package nonetheless. The Bloodpack DLC makes the game even more awesome, especially the way blood splatters on the screen.
#27
Test Drive Unlimited 2
Some games just can't help outdoing themselves. This game is so immersive and I spent so much time on it. Despite its main appeal towards online, the game has a vast single player experience as well. The community is still packed, so if you like driving games, grab a copy now, as long as you're cool with downloading a heap of patches on a regular basis. Car customisation is top notch, allowing to do virtually anything you want without needing to study up on how stuff in a real car works first.
#26
Rage
The best of the worst of the best of 2011 goes to Rage, and for some reason, it's flatlined in price since its release. By no means is it a bad game, it just doesn't have the mass appeal that it deserves. It got released at a bad time (Beyond Good and Evil, anyone?) In true Bethesda fashion this game contains RPG-type elements, but is mainly an action game. Not the prettiest looking game in the world, and I kind of don't like the scripting, but it's an interesting plot and the whole post-apocalyptic setting is intriguing.
So now we're halfway through. Check out Part 2 of my countdown (#25-#11) here.